The

Annual Congress of Anaesthesiology 2020
Thank you to all that attended this year's Annual Congress of Anaesthesiology & Intensive Care Medicine.
We are delighted to announce details for next year's 2020 Annual Congress:
Venue:  O'Reilly Hall, University College Dublin
Dates: Thursday 21st and Friday 22nd May 2020.
More details will be added once available.
For further information contact: odoran@coa.ie
Annual CAT Fun Run 2019
Download Report  on CAT Fun Run 2019 (pdf).
The CAT Fun Run took place on 10 May 2019 on the beautiful Clontarf seafront. This year's run was held in memory of Dr Mark Owens and Dr James Close, two trainees who passed away in the last year.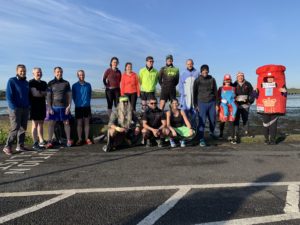 The Mark Owens Trophy is awarded to the overall winner of the fun run, this year being awarded to Dr Pierce Geoghegan who crossed the line with an impressive time of 17:07.
The James Close Trophy is awarded to the best dressed participant in the fun run. The trophy this year was awarded to Dr Emer Ryan.
Congratulations to all participants and our deserving winners.
As with previous years the run was in aid of a worthy charitable cause. The chosen charity this year is the Practitioner Health Matters Programme. The programme supports doctors at times of significant stress both personal and professional www.practitionerhealth.ie . If you would like to support the Programme the donation link for the run remains active at: https://www.justgiving.com/fundraising/cat-fun-run-2019
CAT team.